COVID-19
CATS News Releases regarding COVID-19
Capital Area Transit System (CATS) reminds riders to wear masks
CATS to continue current essential service during Phase One reopening
CATS to continue current service through extension stay-at-home order
CATS temporarily reducing fixed-route daily service April 5th due to COVID-19
CATS continues to run a modified schedule with enhanced safety features as a result of COVID-19
CATS to run a modified weekday service during COVID-19
CATS to enforce social distancing on vehicles during COVID-19
An update on CATS bus service during COVID-19
CATS to run a modified weekday service during COVID-19
Fare Collection
Beginning Thursday, March 19, 2020, CATS is temporarily suspending collection of fares on all CATS vehicles.
Please only take essential trips to support essential services and follow the advice of public health officials.
Service
CATS service will be reduced to a modified weekday schedule until further notice.The last pick up at stops will be 9:30 pm system-wide.
Prevention measures and self-care
While CATS uses a disinfectant to clean vehicles and facilities (all CATS vehicles are fogged daily with Quick Defense NDC), self-care is still the best protection. It is important that you rely on credible sources for information and follow the guidance of health officials who suggest some of the following:
Wash your hands often with soap and water for 20 seconds (if soap and water are not available, use an alcohol-based hand sanitizer that contains at least 60% alcohol)
Clean and disinfect frequently touched objects and surfaces with a regular household spray or wipes
Practice social distancing – keep distance between yourself and others
When coughing or sneezing, cover your nose and mouth with a tissue or your arm
Avoid touching your eyes, nose & mouth with unwashed hands
If you feel sick, stay home and contact your healthcare provider before returning to work
If you travel internationally and you return home with symptoms of COVID-19, please check with your doctor
On March 16, 2020, the U.S. Department of Homeland Security, Cybersecurity and Infrastructure Security Agency (CISA) issued its Memorandum on Identification of "Essential Critical Infrastructure Workers during COVID-19 Response" identifying essential critical infrastructure industries, including the "Mass Transit" industry, for the purpose of the declared COVID-19 state of emergency period.
This mandate directs the mass transit industry to continue normal operations, appropriately modified to account for the Centers for Disease Control (CDC) workforce and customer protection guidance, with the responsibility to maintain its normal work schedule. The Governor of Louisiana declared a state of emergency on March 11, 2020, that included all transit agencies, including CATS abide by the CISA mandate.
CATS strongly encourages the community to heed the Stay at Home order from Governor Edwards and understands some people are working in the essential jobs fields that require them to continue working.
CATS is here to serve the public and has implemented limited seating capacity, waived fares, and is running a modified service.
The health and safety of our community and our operators remain our highest priority.
Additional Resources
Louisiana Coronavirus (COVID-19 Hotline)
If you have questions about coronavirus, please call or visit the Louisiana Health Department website or call
1-866-310-7977 24/7
Center for Disease Control Resources on Coronavirus (COVID-19)
Symptoms of Coronavirus (COVID-19)
Symptoms of Coronavirus (COVID-19) (Spanish)
Symptoms of Coronavirus (COVID-19) (Vietnamese)
10 Things you can do to manage your COVID-19 symptoms at home
10 Things you can do to manage your COVID-19 symptoms at home (Spanish)
10 Things you can do to manage your COVID-19 symptoms at home (Vietnamese)
Stop the Spread of Germs (Spanish)
Stop the Spread of Germs (Vietnamese)
Cleaning and Disinfecting your home
Information on cloth face coverings
Information on cloth face coverings (Spanish)
Proclamation 89 - COVID-19 Public Health Emergency Additional Phase 2 Mitigation Measures
Stay informed by subscribing to receive rider alerts. It takes just seconds to sign up if you aren't already receiving them.
You can also monitor CATS Facebook, Instagram and Twitter feeds. Additionally, more details can be found on our COVID-19 page.
As always, CATS Customer Service can be reached at 225-389-8282.
Customer and Community Reminders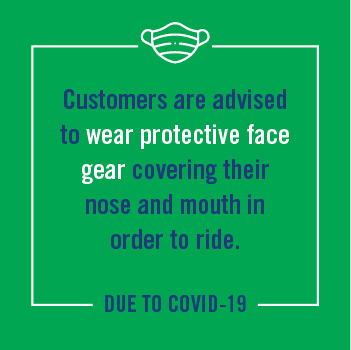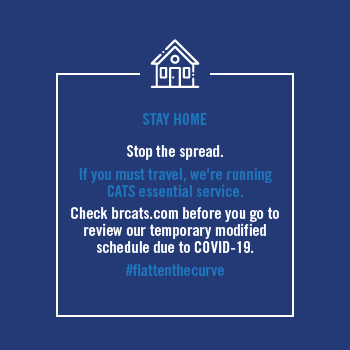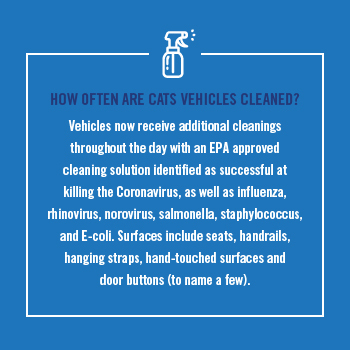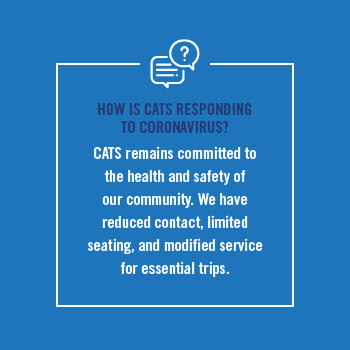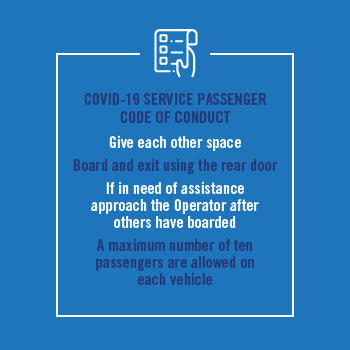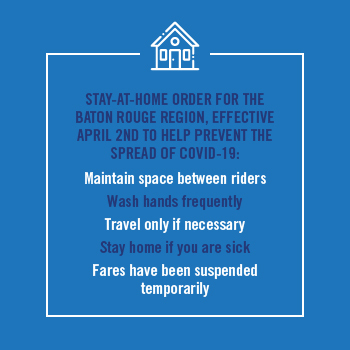 To see how CATS is helping our essential staff and community during COVID-19, click on the below image.