Empower Baton Rouge Study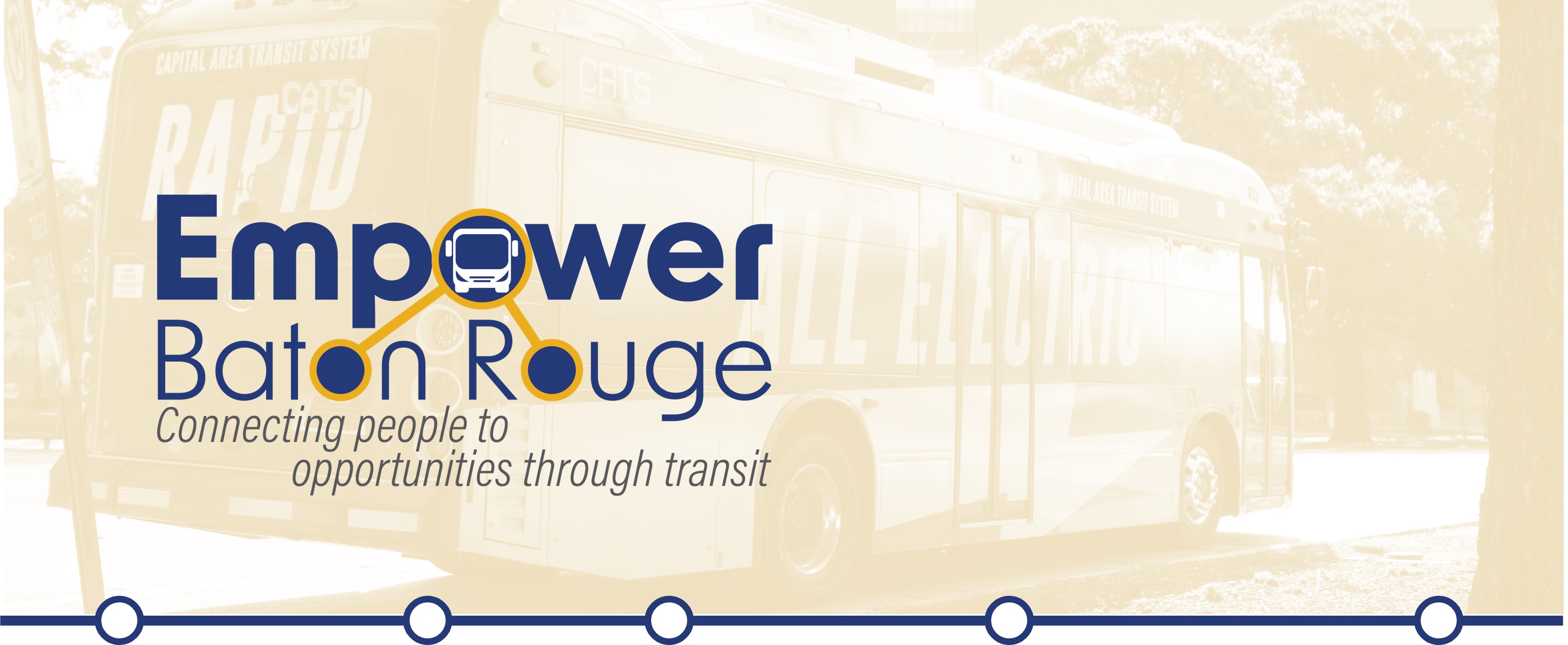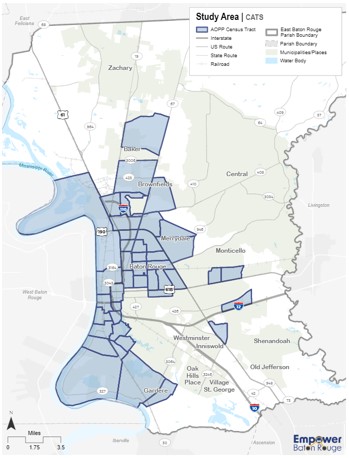 Announcements!

Share your feedback and experiences about public transit by taking our survey here!

We are kicking off public engagement! Our first public comment period will begin August 29 through October 7.

Visit "Community Engagement" section below for more details.
CATS is committed to improving the public's quality of life by providing access to jobs, education, healthcare,and other needs through transit services. The Empower Baton Rouge Transit Study will collaborate with the community, including those typically underserved by transit, to identify transit needs and solutions for the East Baton Rouge Parish and cities of Baton Rouge and Baker.
Based on census data, much of the CATS service area includes minority communities and low-income households. These communities depend on transit services provided by CATS.
Empower Baton Rouge will use community input, technical analysis, and best practices to propose potential solutions to the challenges faced by the community. The team will gather information from community members about their transit experience to determine existing barriers and needs. Empower Baton Rouge will also use data collected in recent projects, such as the MOVEBR Program and the Comprehensive Operational Analysis (COA), to build upon community engagement efforts. CATS will work with the East Baton Rouge City-Parish Department of Public Works and Planning Department to implement prioritized projects.
Empower Baton Rouge Goals

Anticipated Schedule

Community Engagement
We're listening! The CATS goal is to empower residents by connecting people to opportunities through transit services. It is important to hear from the community as we look to improve transit. We will ask how you currently ride transit, what are the challenges you face, what is working, and what could be improved. As part of this effort, a Stakeholder Advisory Group (SAG) will be formed. Members will include leaders from a variety of communities and organizations. The SAG will help provide feedback on behalf of those they represent at key milestones. Additionally, CATS will have several opportunities for communities to provide direct input throughout the study to help shape solutions and recommendations.
Phase I of community engagement will begin August 29 through October 7. During Phase I, CATS will introduce the Empower Baton Rouge Study and provide engagement opportunities to collect feedback from the community that the study team will use to identify and confirm the existing conditions and establish clear objectives for Phase II of the study.
September 2023: CATS invited the community to attend in-person and virtual listening sessions. These sessions provided an opportunity for the community to learn more about the study and discuss current transportation services. See the documents and other information from the meetings below:
Each in-person listening session provided the same information. Community members were welcomed to attend any listening session regardless of where they live or work.
Provide your valuable input by October 7, 2023. Share the challenges you have getting to where you need to go and identify potential future transportation solutions for those needs.
Check back here for additional events planned and announcements later in October.
Want to receive project updates?
CLICK HERE TO SIGN UP FOR UPDATES!
Questions, Comments…Contact Us!
Comments can be made by sending a message to our social media profiles, submitting through our contact form, by email, or mail.

ATTN: Empower Baton Rouge – Transit Study
Capital Area Transit System
2250 Florida Boulevard
Baton Rouge, LA 70802
Persons who require Americans with Disabilities Act (ADA) assistance to attend the listening sessions, review website materials, or take the online survey should contact news@brcats.com no later than 7 days before the event or close of the comment period. Persons who do not speak English, or have a limited ability to read, speak or understand English, may receive interpretive services upon request prior to the meeting.