About CATS
Connecting you to what matters.
The Capital Area Transit System, commonly referred to as CATS, provides bus service to residents of and visitors to Baton Rouge, Louisiana. CATS operates 25 bus lines, helping people get to the places where they live, work and play. The agency provides more than 2 million rides each year.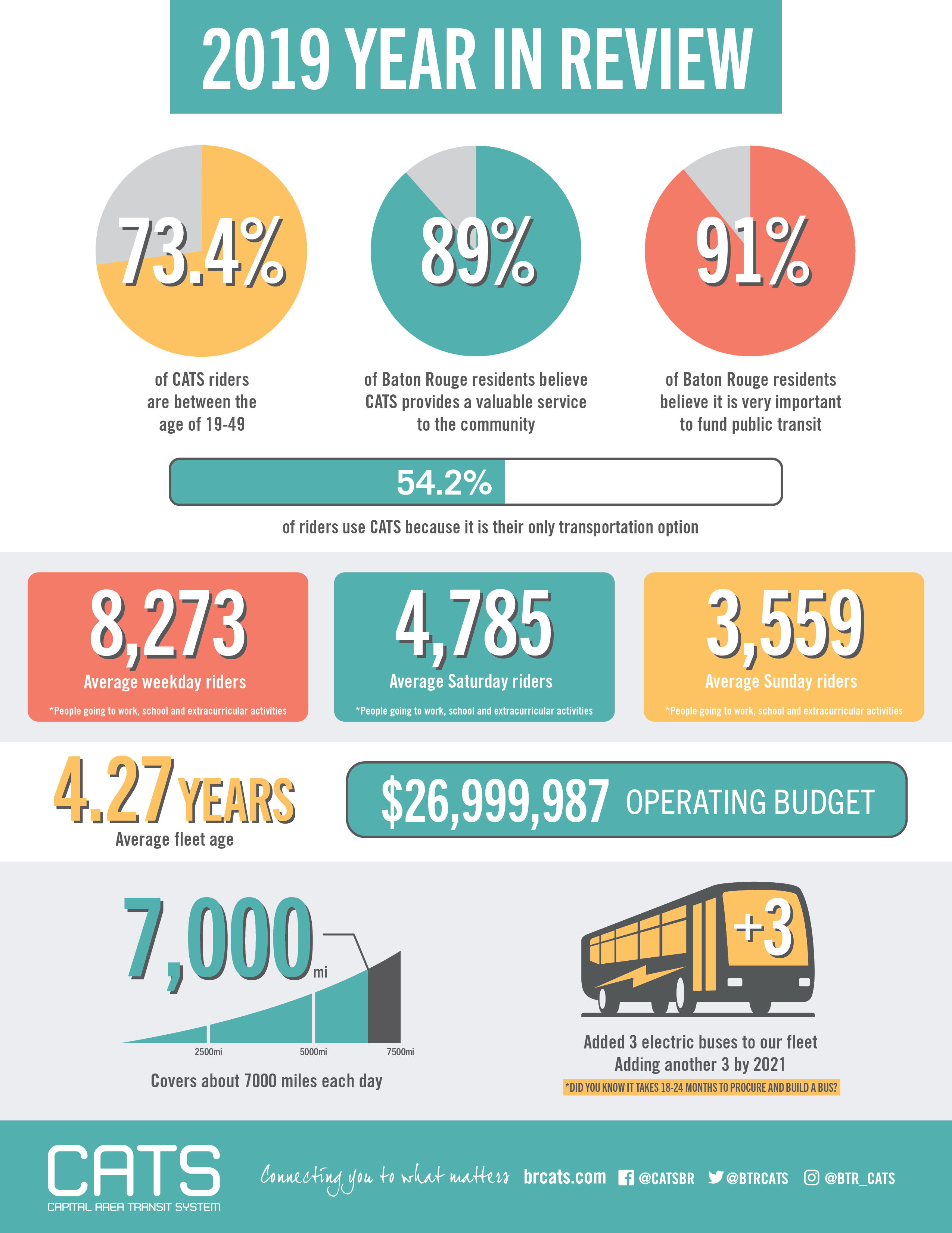 CATS Mission Statement
Enriching the lives of our customers and communities by offering independence and safety … connecting you to what matters.
CATS Vision
Customer-Focused
Safety First
Drive Economic Excellence
Integrity in Everything We Do
Social and Environmental Responsibility
CATS Governance
CATS is governed by a nine-member Board of Commissioners, which meets monthly to handle the business of the agency. The CATS Board hires a CEO to manage the day-to-day functions of the agency and implement its strategic vision for the system.
CATS is an independent agency from City-Parish government, funded by a combination of a local millage, self-generated funding and state and federal transportation dollars. The Baton Rouge Metro Council appoints the nine members of the CATS Board of Commissioners.
CATS History
Before CATS operated WiFi-enabled buses throughout Baton Rouge, transit service was provided by the Baton Rouge Street Railroad Company and consisted of a series of mule-driven trolley cars operating along Government Street. The service was upgraded 11 years later when the Capital Railway and Lighting Company used the first electric cars to transport people around town.
CATS has evolved from a private business to a political subdivision of the State of Louisiana created by special act of the Louisiana legislature. Over the years, names changed from the Baton Rouge Bus Company to Metro Transit to the present-day Capital Area Transit System.
CATS operated from its streetcar/bus barn near the intersection of Plank Road and Scenic Highway, and then from a location on Seneca Street. In May 1998, CATS built its administrative, maintenance and transfer facility at 2250 Florida Boulevard, where it operates today. In June 1999, CATS began operating buses seven days a week, 363 days a year.
In 2012, voters in the City of Baton Rouge and the City of Baker approved increased funding for the system, including an expansion of lines. In March 2014, CATS altered 20 routes and added 10 more using five transit hubs to improve efficiency and shorten ride times for passengers.
The agency continues to enhance its service with plans for new terminals and Bus Rapid Transit lines designed to intersect with the City of Baton Rouge's long-term community development plans. The agency is embracing its role as one piece of a larger transit puzzle, connecting with ride-share and bike-share projects and planned tram service to deliver a seamless transportation experience in Baton Rouge.
Hours of Operation
CATS buses operate the following hours:
Monday - Friday – 5:00 a.m. until 11:00 p.m.
Saturday and Sunday – 6:00 a.m. until 9:00 p.m.
Customer Care
The Customer Care terminal operates during the following hours:
Monday-Friday – 5:00 a.m. until 5:00 p.m.
Saturday and Sunday – closed
The Customer Care Call Center is available by phone at 225-389-8282 whenever CATS buses are operating:
Monday - Friday – 5:00 a.m. until 10:00 p.m.
Saturday and Sunday – 6:00 a.m. until 9:00 p.m.
CATS is a proud member of the South West Transit Association and Louisiana Public Transit Association.