About CATS
Connecting you to what matters.
The Capital Area Transit System, commonly referred to as CATS, provides bus service to residents of and visitors to Baton Rouge, Louisiana. CATS operates 29 bus lines, helping people get to the places where they live, work and play. The agency provides more than 2 million rides each year.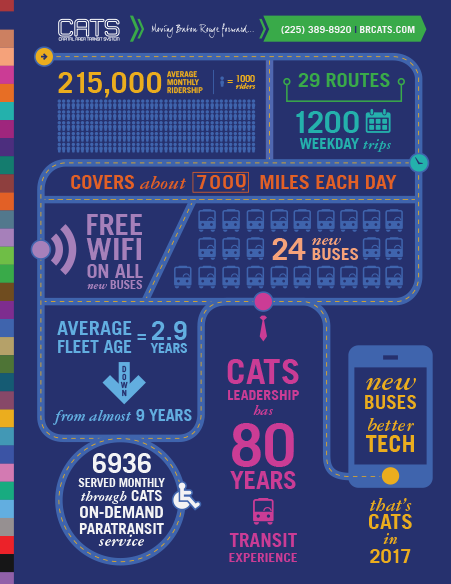 CATS Mission Statement
Enriching the lives of our customers and communities by offering independence and safety … connecting you to what matters.
CATS Governance
CATS is governed by a nine-member Board of Commissioners, which meets monthly to handle the business of the agency. The CATS Board hires a CEO to manage the day-to-day functions of the agency and implement its strategic vision for the system.
CATS is an independent agency from City-Parish government, funded by a combination of a local millage, self-generated funding and state and federal transportation dollars. The Baton Rouge Metro Council appoints the nine members of the CATS Board of Commissioners. The Metro Council also approves any change in fare or any change to more than 25 percent of a CATS route.