Text Alerts
How to use our SMS/ texting feature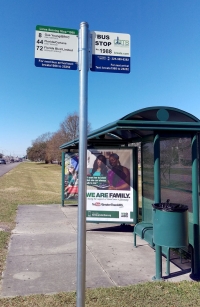 This exciting new feature is based on a 4-digit number —a "stop ID"—unique to each CATS bus stop. New placards are being installed at high-use stops along Florida Boulevard and Airline Highway. These signs identify the stop ID number and bus lines serving each stop. In the future, new signs will be coming to stops throughout the CATS service area.
If you know the Stop ID for your location, simply text brcats plus the Stop ID (for example: brcats1988) to the CATS Trax service number 25252. The system will reply with a list of predicted bus arrival times during the next hour as illustrated in this graphic obtained from an Android device. Similar results will appear on an iPhone.
The CATS Trax texting service number - 25252 - does not change and can be added to your cell phone as a contact for future use.
My stop doesn't have a new sign yet. How can I find its Stop ID?
If you have a computer with internet access, you can look it up on a map online in either of two ways.
Use our CATS Trax portal, turn on all routes, zoom into your location, and click on the nearest blue bus stop icon. The system will display the stop name, ID, and then list scheduled arrivals.
Use Google Maps to actually plan a transit trip. The stop IDs will be revealed on the trip itinerary as illustrated in this graphic.