CATS Touchdown Express Reminders for LSU's Early Kickoff Against Arkansas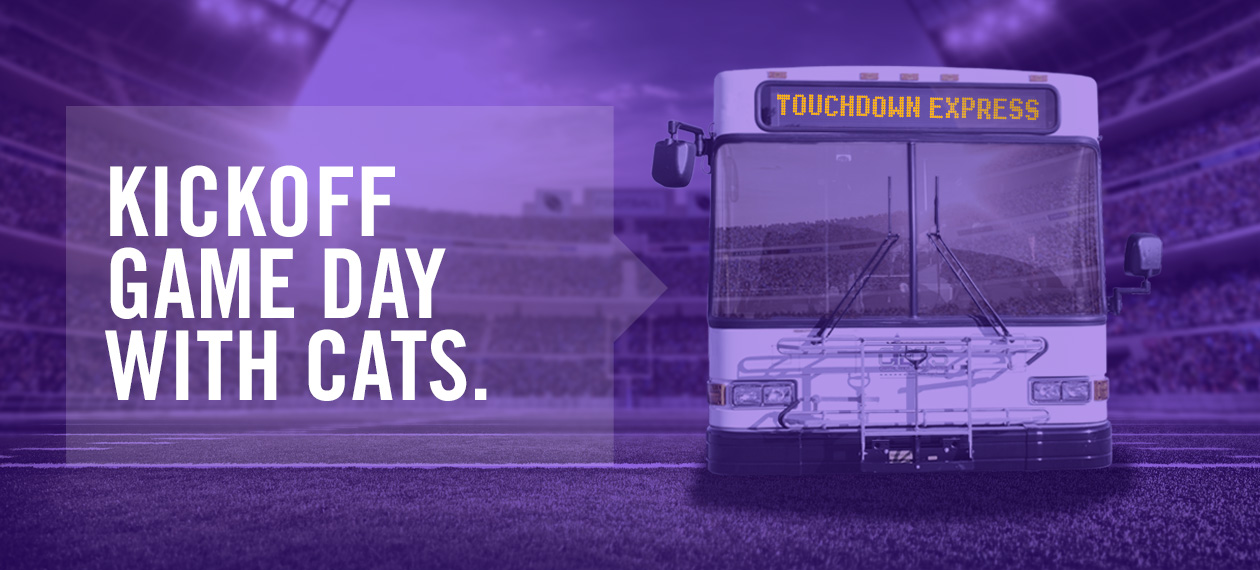 BATON ROUGE, La. – The Capital Area Transit System's Touchdown Express returns to the streets this week for LSU's early game against Arkansas, beginning service at 8 a.m.
CATS offers a few reminders to riders on Saturday:
Online ticket sales for the LSU-Arkansas game end on Thursday night.
Touchdown Express tickets for LSU vs. Arkansas can be purchased on Saturday for $10 in person at Touchdown Express pick-up locations.
Cash is preferred, but credit and debit cards will be accepted at the Hotel Indigo and L'Auberge Casino locations. Riders using cash are highly encouraged to have exact change.
Touchdown Express begins running at 8 a.m., three hours before kick-off.
Because of LSU's Game Day road closures, riders will be dropped off at lot 406, which is near Tiger Stadium.
HOW IT WORKS
CATS provides round-trip transit service to LSU's campus starting three hours before all home games during the 2017 football season. Touchdown Express runs until an hour after the LSU game ends. The Touchdown Express picks up and drops off at five locations around Baton Rouge, which are:
L'Auberge Casino & Hotel
Interstate 110 Underpass in downtown
Hotel Indigo
Hampton Inn Downtown
Belle of Baton Rouge Casino
Buses will run approximately every 30 to 45 minutes, depending on traffic and, because of LSU's Game Day road closures, drop riders off at lot 406, near Tiger Stadium.
Departures from the pick-up spots will end around 45 minutes before kick-off. CATS will NOT run a shuttle at halftime. Departure from LSU's campus will occur after the game in lot 406.
Riders with questions should contact CATS Customer Care at 225-389-8282. CATS also posts updates on social media and at brcats.com/Touchdown.
###