LSU Touchdown Express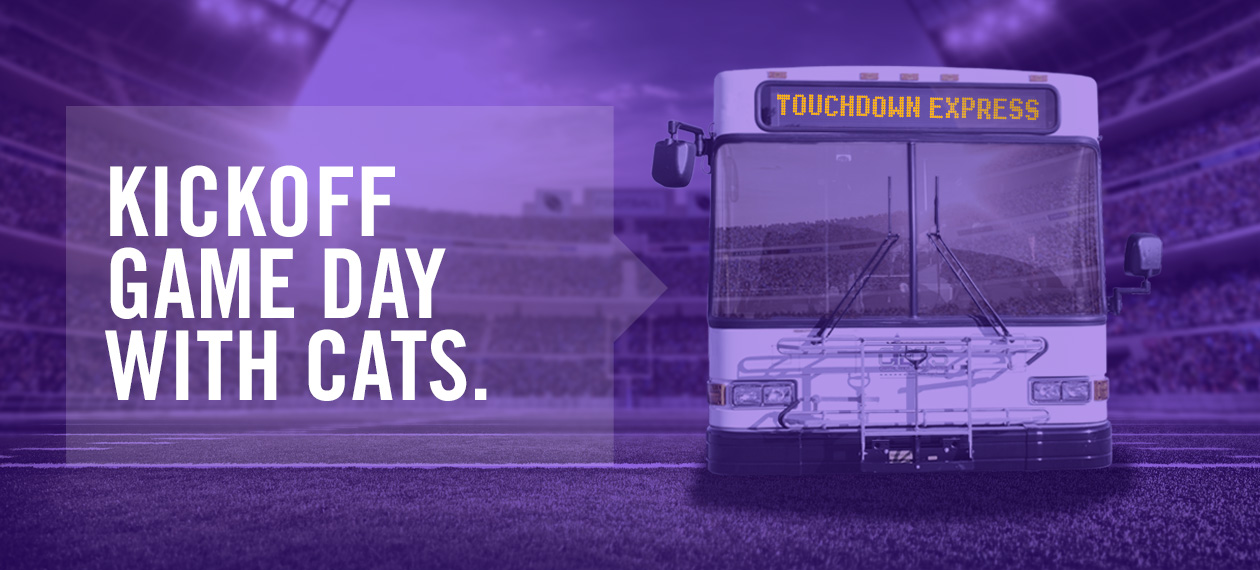 CATS connects football fans to LSU home games through affordable, round-trip transit service to Tiger Stadium. Forget parking: get on board the Touchdown Express at one of its many locations and hop off in the middle of the action.
Beginning July 8, 2018, tickets for LSU Touchdown Express service can be purchased online on the "Buy Tickets" page.
*Please note, online ticket sales are pulled the Thursday evening prior to a scheduled home game. Tickets may still be purchased at the terminal or one of the ticket sale locations day of.
How does Touchdown Express work?
CATS provides round-trip transit service to LSU's campus starting three hours before all home games during the 2018 football season. Touchdown Express runs until an hour after the LSU game ends. The Touchdown Express picks up and drops off at numerous locations around Baton Rouge. Customers can view our flyer here .
Credit Cards and/or exact cash is encouraged for game day ticket purchases.
Purchase Touchdown Express Passes
Beginning July 8, 2018 tickets for Touchdown Express can be purchased online on the "Buy Tickets" page. Ticket sales are removed the Thursday before a game to ensure tickets are received by the customers on time. Tickets can also be purchased in person at the CATS terminal in advance of the game or from CATS staff at one of the pick-up spots the day of the game. Tickets are $10 per person round trip or $60 for a season pass.
LSU 2018 Home Game Schedule
Please note: Kickoff times are not controlled by CATS. Touchdown Express begins running three hours before kickoff.
LSU vs Southeastern Louisiana: September 8, kickoff 6:00pm
LSU vs Louisiana Tech: September 22, kickoff TBD
LSU vs Ole Miss: September 29, kickoff TBD
LSU vs Georgia: October 13, kickoff TBD
LSU vs Mississippi State: October 20, kickoff TBD
LSU vs Alabama: November 3, kickoff TBD
LSU vs Rice: November 17, kickoff TBD
Pick-up and Drop-off Locations for the 2018 season
Hotel Indigo (ticket sales available)
Tin Roof Brewery (ticket sales available)
Under I-110 Overpass (ticket sales available)
L'Auberge Casino (ticket sales available)
Belle of Baton Rouge (pick up/ drop off only)
Hollywood Casino (pick up/ drop off only)