Route 08 - Gus Young Ave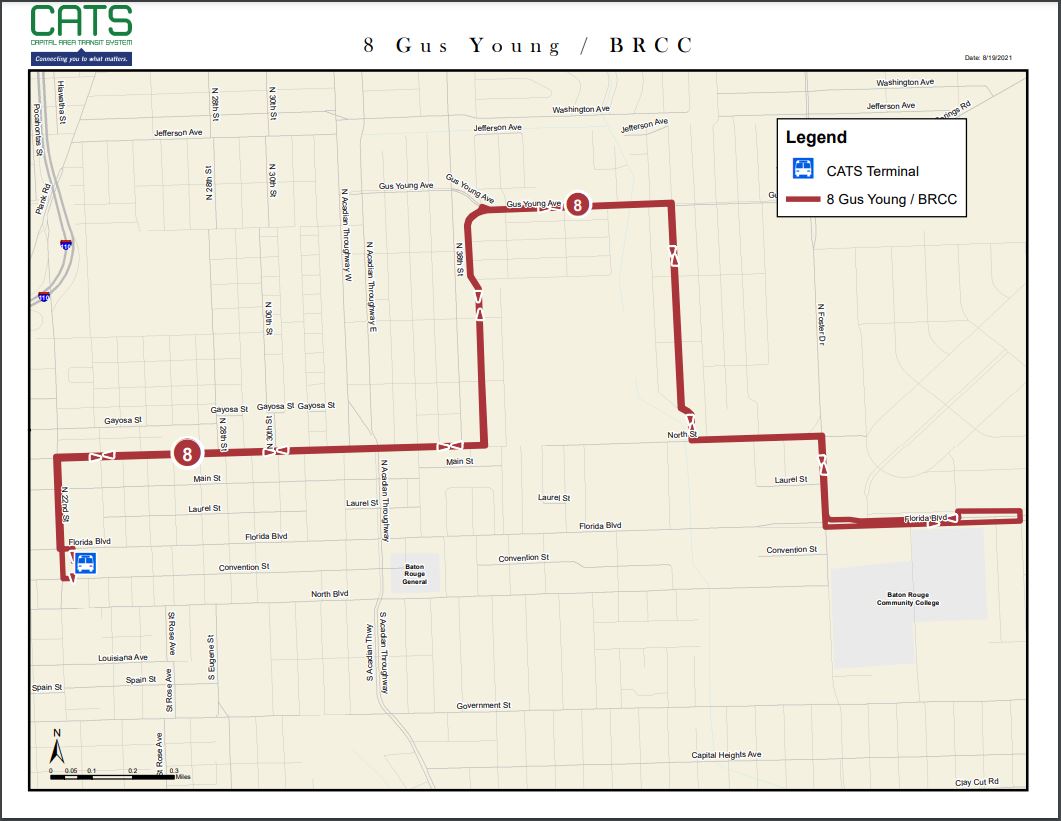 Route 8 travels between the CATS Terminal and Baton Rouge Community College via North St, Gus Young Ave and Columbus Dunn Dr.
Frequency:
Weekday: 60 minutes
Saturday: 60 minutes
Sunday: 60 minutes.
Points of Interest:
Baton Rouge Community College
Capitol Elementary, Gus Young Park
Dr. Martin Luther King Community Center
Mary J. Lands Park – (accessible via North St @ N. 30th St – Westbound and Eastbound bus stops).
Weekday Schedule
CATS Terminal to BRCC
BRCC to CATS Terminal
CATS Terminal
Gus Young Ave @ Columbus Dunn
Florida Blvd @ BRCC
Florida Blvd @ BRCC
Columbus Dunn @ Gus Young
CATS Terminal
1001
1025
2022
2022
1037
1001
---
---
---
6:19 AM
6:26 AM
6:36 AM
7:00 AM
7:09 AM
7:16 AM
7:19 AM
7:26 AM
7:36 AM
8:00 AM
8:09 AM
8:16 AM
8:19 AM
8:26 AM
8:36 AM
9:00 AM
9:09 AM
9:16 AM
9:19 AM
9:26 AM
9:36 AM
10:00 AM
10:09 AM
10:16 AM
10:19 AM
10:26 AM
10:36 AM
11:00 AM
11:09 AM
11:16 AM
11:19 AM
11:26 AM
11:36 AM
12:00 PM
12:09 PM
12:16 PM
12:19 PM
12:26 PM
12:36 PM
1:00 PM
1:09 PM
1:16 PM
1:19 PM
1:26 PM
1:36 PM
2:00 PM
2:09 PM
2:16 PM
2:19 PM
2:26 PM
2:36 PM
3:00 PM
3:09 PM
3:16 PM
3:19 PM
3:26 PM
3:36 PM
4:00 PM
4:09 PM
4:16 PM
4:19 PM
4:26 PM
4:36 PM
5:00 PM
5:09 PM
5:16 PM
5:19 PM
5:26 PM
5:36 PM
6:00 PM
6:09 PM
6:16 PM
6:19 PM
6:26 PM
6:36 PM
7:00 PM
7:09 PM
7:16 PM
7:19 PM
7:26 PM
7:36 PM
8:00 PM
8:09 PM
8:16 PM
---
---
---
Saturday Schedule
CATS Terminal to BRCC
BRCC to CATS Terminal
CATS Terminal
Gus Young @ Columbus Dunn
Florida Blvd @BRCC
Florida Blvd @ BRCC
Columbus Dunn @ Gus Young
CATS Terminal
1001
1025
2022
2022
1037
1001
6:30 AM
6:39 AM
6:46 AM
6:50 AM
6:57 AM
7:07 AM
7:30 AM
7:39 AM
7:46 AM
7:50 AM
7:57 AM
8:07 AM
8:30 AM
8:39 AM
8:46 AM
8:50 AM
8:57 AM
9:07 AM
9:30 AM
9:39 AM
9:46 AM
9:50 AM
9:57 AM
10:07 AM
10:30 AM
10:39 AM
10:46 AM
10:50 AM
10:57 AM
11:07 AM
11:30 AM
11:39 AM
11:46 AM
11:50 AM
11:57 AM
12:07 PM
12:30 PM
12:39 PM
12:46 PM
12:50 PM
12:57 PM
1:07 PM
1:30 PM
1:39 PM
1:46 PM
1:50 PM
1:57 PM
2:07 PM
2:30 PM
2:39 PM
2:46 PM
2:50 PM
2:57 PM
3:07 PM
3:30 PM
3:39 PM
3:46 PM
3:50 PM
3:57 PM
4:07 PM
4:30 PM
4:39 PM
4:46 PM
4:50 PM
4:57 PM
5:07 PM
5:30 PM
5:39 PM
5:46 PM
5:50 PM
5:57 PM
6:07 PM
6:30 PM
6:39 PM
6:46 PM
6:50 PM
6:57 PM
7:07 PM
7:30 PM
7:39 PM
7:46 PM
---
---
---
Sunday Schedule
CATS Terminal to BRCC
BRCC to CATS Terminal
CATS Terminal
Gus Young @ Columbus Dunn
Florida Blvd @ BRCC
Florida Blvd @ BRCC
Columbus Dunn @ Gus Young
CATS Terminal
1001
1025
2022
2022
1037
1001
7:00 AM
7:09 AM
7:16 AM
7:19 AM
7:26 AM
7:36 AM
8:00 AM
8:09 AM
8:16 AM
8:19 AM
8:26 AM
8:36 AM
9:00 AM
9:09 AM
9:16 AM
9:19 AM
9:26 AM
9:36 AM
10:00 AM
10:09 AM
10:16 AM
10:19 AM
10:26 AM
10:36 AM
11:00 AM
11:09 AM
11:16 AM
11:19 AM
11:26 AM
11:36 AM
12:00 PM
12:09 PM
12:16 PM
12:19 PM
12:26 PM
12:36 PM
1:00 PM
1:09 PM
1:16 PM
1:19 PM
1:26 PM
1:36 PM
2:00 PM
2:09 PM
2:16 PM
2:19 PM
2:26 PM
2:36 PM
3:00 PM
3:09 PM
3:16 PM
3:19 PM
3:26 PM
3:36 PM
4:00 PM
4:09 PM
4:16 PM
4:19 PM
4:26 PM
4:36 PM
5:00 PM
5:09 PM
5:16 PM
5:19 PM
5:26 PM
5:36 PM
6:00 PM
6:09 PM
6:16 PM
6:19 PM
6:26 PM
6:36 PM
7:00 PM
7:09 PM
7:16 PM
---
---
---