July 2019 Run Cut
Service Updates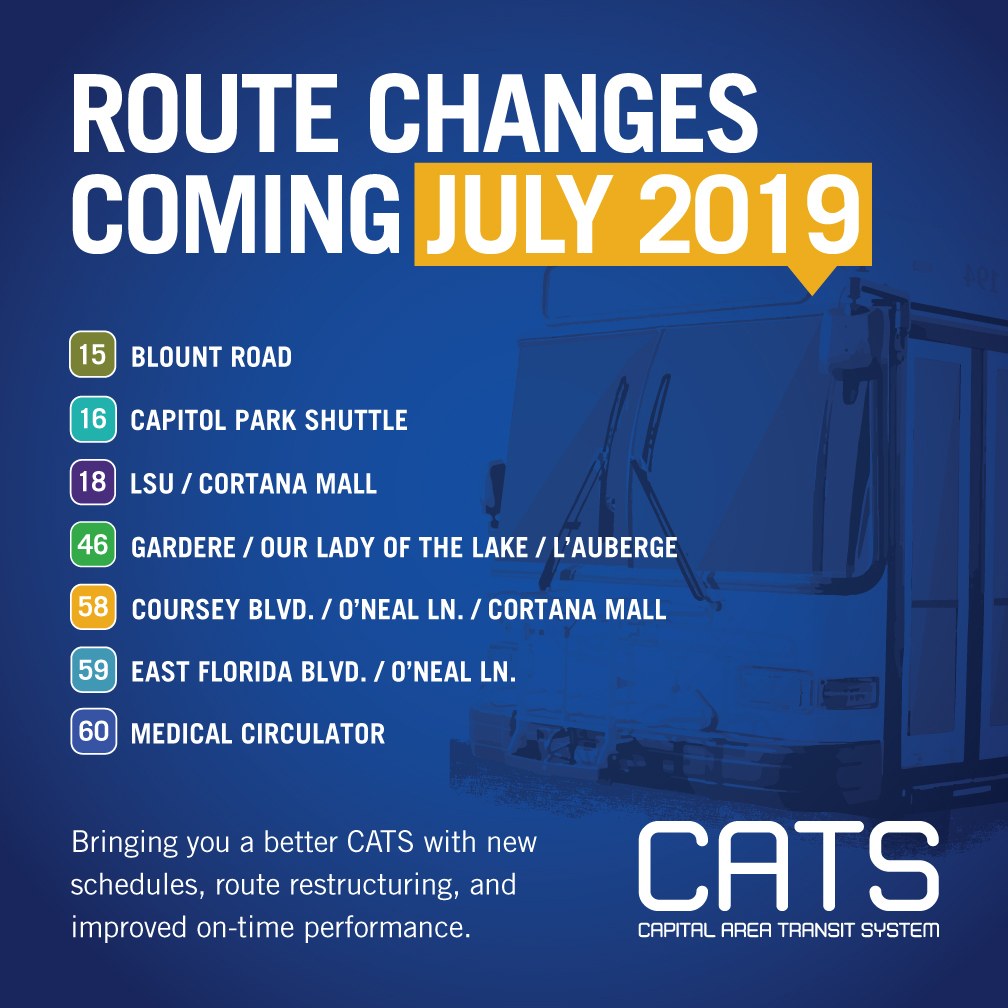 Summary of route changes
Route 15 - Reroute onto Mickens Road between Lanier Drive and Hooper Road
View Route 15 New Schedule effective July 21, 2019
Route 16 - Reroute and new Schedule to improve on-time performance
View Route 16 New Schedule effective July 21, 2019
Route 18 - New Schedule to improve on-time performance
View Route 18 New Schedule effective July 21, 2019
Route 46 - New Schedule to improve on-time performance
View Route 46 New Schedule effective July 21, 2019
Route 58 - New Schedule to improve on-time performance
View Route 58 New Schedule effective July 21, 2019
Route 59 - New Schedule to improve on-time performance
View Route 59 New Schedule effective July 21, 2019
Route 60 - Reroute onto Dijon Drive to improve travel time
View Route 60 New Schedule effective July 21, 2019
My stop is being eliminated
What does this mean?
A few things actually;
Beginning Sunday, July 21, 2019, the CATS bus will no longer stop at this bus stop location
You will need to locate the closest bus stop to this one in order to continue to ride this route (Don't worry; most stops are not that far from your current stop. If you cannot visually identify the next closest bus stop, find your route from the list below to identify your new bus stop location.)
I need more information regarding these changes, where can I get it?
If you cannot locate the information you need from this page, contact Customer Service at 225-389-8982 and they will be happy to assist you.
Why are these changes being made?
Eliminating stops with low ridership allows us to increase route efficiency and on-time performance. Fewer stops = faster service. The majority of the stops we are eliminating had zero (0) riders board or disembark at that particular bus stop during our data collecting period.
How many riders are having their stops eliminated?
Less than 1% of our riders are having their current stop eliminated.
Where can I see a full list of eliminated stops?
Review all eliminated stops and new stop locations here. This information is not intended to advise our riders on how they should ride the system. The best way to ride will vary depending on the exact trip each individual rider is making.
Are there any new stops being added?
A list of new stops along Route 15 and 60 can be reviewed here. These stops will not be serviced until July 21, 2019.
How is the CATS On Demand Paratransit area changing?
The footprint is slightly expanding. The updated service area map can be found here. Also, COD Customers will receive a copy of this updated map through our direct mail program.